During a recent interview with Yahoo, Weaving talked a little bit about how he ended up enjoying playing Red Skull, and later on how he could see a potential return of the character:

"I thought it would be a lot of fun to play a classic über-Nazi, someone who thought Hitler was a pussy! [Laughs] It was fun to play; I enjoyed the outrageousness of the German accent that I employed and I enjoyed the extraordinary mask and costume, even though it was unbelievably hot inside it. I enjoy mask work; I enjoy trying to animate masks and reveal certain things that the mask itself might not reveal. V for Vendetta was another example of that, but there was less animation within that mask versus the Red Skull.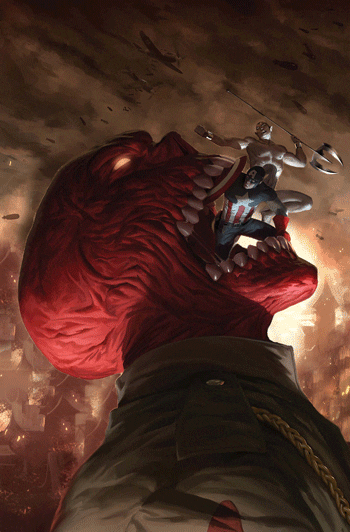 "With Marvel, it's pretty basic stuff: accept the deal and enjoy the ride. It's not a major stretch for an actor, but on the other hand the difficulty with the Marvel universe is maintaining a link to a human dimension within such an extraordinary, technological CGI universe. In terms of me going back and doing another one, I don't know. I'm not sure what they're up to with the Red Skull."

What do you guys make of all that? And yes, that little gif is straight up terrifying, right?